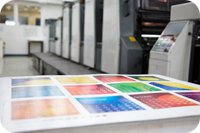 Every day, thousands of businesses depend on Detroit Print Shop to provide the marketing and printed materials essential to their efficient and profitable operation. For many years, our clients have been taking advantage of our convenience, top-notch service and superior quality of Detroit Print Shop products for all their marketing and printing needs.
At Detroit Print Shop, we understand the need of a professional image that is why we provide the highest quality printing for your marketing materials at an unbelievable price. We offer a wide selection of products that are environmentally conscious while providing brilliant color reproduction.
At Detroit Print Shop, we take great pride in helping our clients find the marketing solutions that best fit their needs and budgets—and we produce the products unique to each of our customers using only state of the art equipment and cutting edge technology. Our clients benefit from our investment in Heidelberg Offset presses that guarantee unparalleled clarity and unlimited creative innovation.
We provide excellent service to clients nationwide who need cost-effective quality printing that meets their needs. Our customers have learned from experience they can depend on Detroit Print Shop and have made us the Number One resource for all their printing needs.