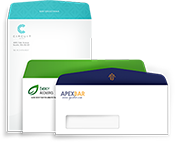 Whether you're mailing marketing materials, estimates or invoices, custom envelopes are a symbol of professionalism and give credibility for your company and help you make the right impression with recipients.
Often, the first impression clients and customers have of your company is judged the envelope in which you mail materials. Custom envelope printing offers a clean, professional element to your company image and reinforces your product or service image.
With Detroit Print Shop, your printed envelopes will strongly influence the impression of your company and increase the chance that the marketing materials you mail will reach the decision makers.
Remember, custom envelopes with your logo separate your communication from the junk mail which floods offices and mailboxes everyday.
Detroit Print Shop offers envelopes in five different sizes to meet your everyday and specialty needs, including:
Envelope number 9: 3.875 x 8.875
Envelope number 10: 4.125 x 9.5
A-7: 5.25 x 7.25
9 x 12

Recent Posts