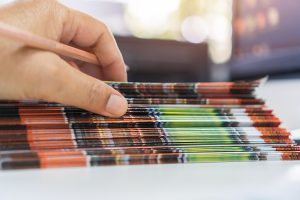 Whether you need excellent printing services in Dearborn, MI for your brochures, business cards, or flyers, Detroit Print Shop is a one-stop solution for all your printing needs. We are proud to provide hi-tech and premium-quality printing solutions to our clients. Whether you are designing greeting cards, creating bookmarks for business or personal use, or printing business cards to reach more customers, we provide affordable customized printing solutions for your needs.
Get the Best Printing Services in Dearborn, MI
Here are some of our most popular printing services we offer:
Get Professional-Quality Prints Today!
All you have to do is create an account to explore a wide collection of our samples and place an order online with Detroit Print Shop.
We provide the best quality printing for all your creative, professional, or personal projects. Plus, we utilize hi-tech printing and production technologies to deliver nothing but the best results for our customers. Our affordable services and first class customer service is great for small businesses, DIY enthusiasts, artists, students, and anyone who wants to get quick and affordable printing in Dearborn, MI.
To learn more about the printing services we offer in Dearborn, contact us today so we may answer any questions that you may have!