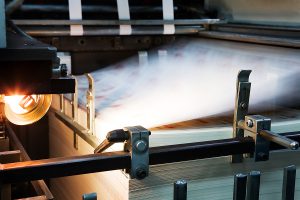 In today's fast-paced world, business cards and flyers increase business visibility.
To stay competitive, businesses need to connect with customers and potential leads by incorporating unique ways to grab their attention. At the Detroit Print Shop, we can meet your printing needs for eye-catching flyers and business cards for your business in Royal Oak, MI or the Metro Detroit Area.
Why Flyers and Business Cards?
Flyers and business cards are traditional forms of garnering consumer attention. As consumers are spending more and more time online, their attention span is growing smaller. This means businesses fight tooth and nail to get their attention first.
Flyers Attract Potential Customers
Who said flyers have to be boring? With help from the right professionals, your business can captivate its audience using visually captivating flyers. We offer high-quality color printing; four different sizes of flyers; and six types of stock paper, including gloss, refined and smooth papers, so each flyer complements your products and services
Business Cards That Can Make a Great First Impression
Business cards usually provide essential information about a company at a glance. Business cards make you and your brand identifiable, attracting potential leads. We offer nine special business card sizes; high-quality printing, along with UV or gloss coating on your business cards; specialty in rounded corner cards; and three types of paper stock for your business card. We also make the process simple by allowing you to easily upload your press files or you can use our online designer to create your own business card.
Looking to boost your brand recognition with flyers and business card printing in Royal Oak or the Metro Detroit Area? Contact us at 866-734-0005, or email us at info@detroitprintshop.com today!