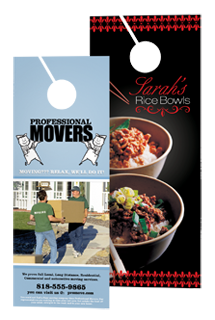 We know-some things just can't be avoided.
Advertising professionals have discovered that the front door is one of those and promotional material hung from the front door handle is sure to be noticed.
One of our most ordered items is the ever-popular door hanger.
Detroit Print Shop offers door hangars in a vivid, full color format with the option of coupons, special offers or even business cards. These door hangars are of the highest quality with exceptional graphic and color reproduction, making them irresistible to consumers. They are printed to the exacting standards of Detroit Print Shop and bring the message 'home' in a professional and effective way.
Detroit Print Shop offers several options for door hangars, including:
Four separate sizes
Four paper stocks
Full color both sides or single sided
Recent Posts
A door hanger is a cost effective direct marketing tool in which a small piece of cardboard or plastic with a hole at the top is placed on a door knob. They are mostly used to convey messages about products, services, limited time offers, discount coupons and giveaways. They can contain a lot of text […]