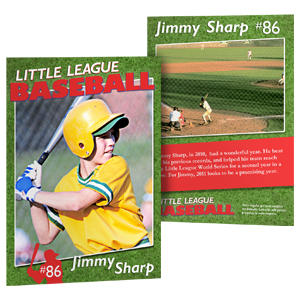 Collector cards are a proven powerful and popular new promotional medium and are popular as memorabilia.
Detroit Print Shop offers best color reproduction on one of the most popular new business and club promotions-collector cards.
Check out our high quality reproduction and competitive pricing of collectors cards. We offer the standard 2.5 x3.5 size with full color printing on the front, both sides, or full color front with black and white printing on the reverse side.
The trading cards are now used in Little League and school sports and for business promotions.
Recent Posts
Trading cards and collector's cards are as popular today as when baseball cards were first introduced in the 1880s. They quickly became a very popular and effective marketing tool for cigarette, gum and candy manufactures. A collector card is not limited to baseball or sports cards. Personal cards are even more popular today. Police and […]