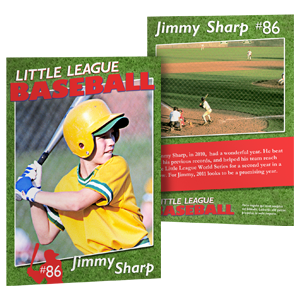 Trading cards and collector's cards are as popular today as when baseball cards were first introduced in the 1880s. They quickly became a very popular and effective marketing tool for cigarette, gum and candy manufactures. A collector card is not limited to baseball or sports cards. Personal cards are even more popular today.
Police and fire departments and government agencies use them for public relations, celebrities for fans, schools and school teams use them for trading and friendship building and historic societies use and collect cards of important people and events of the past. Artists use them to show their works and make collector sets. Collector card sets are terrific teaching tools. Kids love to exchange characters.
Kids in all sports, teams and clubs enjoy their own personal trading card. It makes them feel important and they trade and exchange them. Many adult armatures and profession teams order them for their players. They build pride, success, and self worth and are great fun to exchange with team members and opposing teams and fans.
You don't have to be famous to make your own collectors cards. Digital technology and printing have come together to make high quality personal trading cards very affordable.
500 custom cards printed on heavy cards stock with UV laminate coating should cost about ten cents each and one thousand about eight cents. Plastic lamination can be done for an additional cost, but most customer like the high quality of UV when considering the higher cost to benefit.
Custom printed cards continue to be a popular special gift from parents and grandparents to their kids. Adult hobbyist and collectors print cards of their collections to trade with each other. History buffs make wholesale collectible card sets of people and events they are interested in. Game creators use wholesale custom cards to make card games like Pokemon.
Both sports and non-sports cards are as much fun today as they were over 130 years ago. High tech printing has made low tech personal trading cards cheap and as popular as ever, the uses and market for wholesale custom printed collectible cards continues to grow into new niches.
Custom printed trading cards and collector cards are a perfect gift that makes any recipient smile. You can use any interesting photo, artwork, portrait, landscape, product or other interesting graphic that will attract attention. Now is the time to expand your creativity.
See for yourself how easy and affordable these custom cards are. They are the perfect unique gift that makes everybody smile.
H/T Source: EzineArticles.com