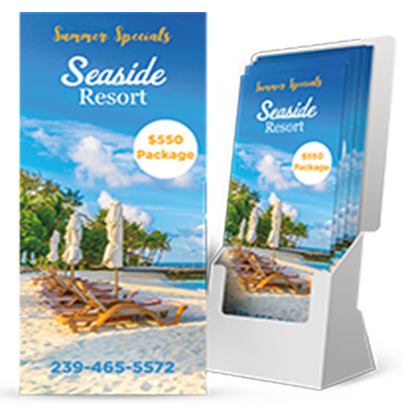 When you really need to stand out from the crowd, you need the full-color, professional printing offered by Detroit Print Shop rack cards.
These cards, often displayed in hotels, rest stops, restaurants and airports are a cost effective way to market to vacationers, tourists, travelers and with some products, customers in your own area. To be effective, the cards need to stand out and appeal to customers—that's the advantage Detroit Print Shop offers with high quality color reproduction and photographic printing.
Rack card options include two paper sizes with five paper stock choices. Whatever size or format, the high quality printing of Detroit Print Shop is sure to make your rack card stand out from the crowd.
Recent Posts
Rack cards are one of the best known advertising tools. Along with brochures, catalogs and posters they serve as the purpose of comprehensive marketing campaign. They are widely used in hotels, landmarks, stores, restaurants for promotional purpose. Although the cost of printing standard rack cards isn't much there are some ways in which it can […]