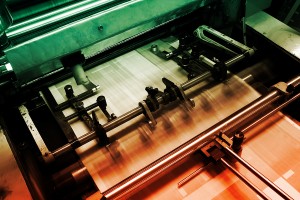 When preparing to buy new printed materials for your business, it's easy to focus entirely on the design that goes on the page. Layout, lettering and print quality are all very important factors in getting great looking high quality business cards, full color flyers or any printed material, but they are not the only consideration. The strength, durability, and professional appearance of your printed materials depends on having the right paper stock for the job at hand.
Choosing the right paper stock can be difficult. There are so many different kinds, often with qualities that are not easily visible to the untrained eye. Relying on the expertise of a professional print shop can take the guesswork out of choosing your paper stock. Detroit Print Shop relies primarily on a 14-point UV-coated glossy paper stock that is ideal for many different applications. This versatile paper stock can be used for everything from printed postcards to business cards, and provides a great look at a low price. The 100 lb gloss cover is a very popular choice for flyers and brochures.
Detroit Print Shop also offers several other options for high quality business cards. Customers can choose from a 14 point premium uncoated stock or a 16 point Dull Cover with matte finish. Also, we offer a variety of choices for other applications. Brochure printing can be done on 80 lb Gloss Book or Recycled paper with aqueous coating, 100 lb Gloss Book or Gloss Cover with aqueous coating, or 100 lb Recycled Matte Cover with aqueous coating.
All of these choices can seem confusing and obscure at first. Detroit Print Shop's free print samples make it easy to try several styles and choose what stock looks exactly right for your materials. Our cutting-edge Heidelberg Offset press makes sure that whatever stock you choose, the printing on it will look great.