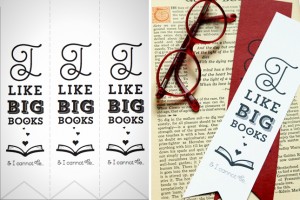 Personalized bookmarks aren't only for marking your place in the book or magazine you're reading. But you really don't have to be an avid reader to appreciate custom bookmarks no matter how or where you received them, or to give them out to others.
While some people have drifted right by our table at craft shows saying, 'They're pretty, but I don't read,' many others have stopped and purchased a few plus gave us some great ideas for using them that we hadn't thought of.
So we're giving you those creative bookmark ideas for you to use bookmarks in your business, at a party you're hosting, around the holidays, and any number of ways besides hiding them away in books.
1. Give personalized Bookmarks as Gifts
Personalized bookmarks are an easy and creative way to attach a tag to a gift, whether it's a holiday or special occasion like a wedding, anniversary or birthday party. Custom bookmarks are a great add-on to a gift certificate from Amazon.com or Barnes and Noble. Actually, kids love bookmarks and so do college students who still use hard copy books and not iPods or Kindles. And since most students have more than one book they need to mark a place in, for different classes, why not give them a couple of different personalized bookmarks, one for each class.
2. Give Them to Members of Your Reading Group
Obviously members of reading groups will appreciate a new bookmark for their book of the month. Give them a new one every month with the name of the book they're reading and personalize it with their name.
3. Awareness campaigns and Fundraising Drives
Make personalized bookmarks with your group's name and logo, the organization's chapter number and tag line or special quote that has to do with that particular fundraiser. If you give out special bags with freebies in them like imprinted pens and notepads, add a laminated bookmark or two to the bag in addition to anything else you're giving away.
4. Raise Funds for a School or Community Sports Team
Almost every school sports event has a table set up where they sell soft drinks, sandwiches and snacks. Some teams set up tables where they sell custom T-shirts and other items with the team logo on them. Add personalized bookmarks to this table and sell them too. Since laminated bookmarks are cheap to buy in bulk, you can mark them up from $.85 or $1.00 each to $3.00 each and make a nice profit.
5. Create Matching Gift Sets
If you're giving a small item as a gift, like a book or gift card, or just about anything really, add a laminated bookmark to the gift for a set or just a little added personal touch to the gift.
6. Use Personalized Bookmarks for Party Invitations
Get creative and ask your guests to "bookmark the date" with custom personalized bookmarks. Add magnets to the backs of the bookmarks so your invitees can put them on their refrigerators.
7. Add Bookmarks to Matchbook Favors
A lot of people use custom imprinted matchbooks for favors for just about anything, like anniversary parties, baby showers and for wedding favors. If you're planning to buy matchbooks, have laminated bookmarks done to match, then simply tie them together with ribbon or raffia for a nice favor package to give out at parties, showers or weddings.
8. Special Laminated Bookmarks for Memorial Services
Give friends and family beautiful cards or bookmarks imprinted with a photo of the departed loved one and a special verse or poem that commemorates their life. The bookmarks can be included with a program of the service or instead of a program. Some family members may appreciate the bookmarks because it's just a little different from a standard paper that some funeral homes provide, and they can be included in a family Bible, album or scrapbook.
9. Use Personalized Bookmarks in Your Business
Bookmarks can be given to anyone, no matter what business they're in. And there are a lot of business owners that use laminated bookmarks in their businesses for advertising promotions. Business owners often thank their clients with a followup postcard or letter. Add a custom bookmark with your followup material for a special touch.
10. Use Bookmarks with eBay Sales
If you have a business on eBay and ship items to your customers, drop a laminated bookmark into the package with your contact information on it to say Thank You for your purchase.
11. Holiday Stocking Stuffers
Stocking stuffers are always smaller gifts that often aren't wrapped but simply placed or "stuffed" inside the Christmas stocking and later dumped out by excited kids – and parents too sometimes!
H/T Source: EzineArticles.com