Everyone who reads has found themselves flipping through a book to find out where they are up to. This is a painful and time consuming as the future plot can be revealed. So, in order to reduce the frustration use a bookmark – the humble insert that always does what it is told!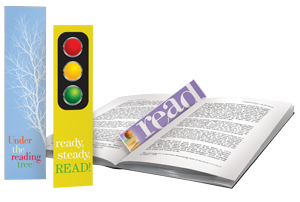 Bookmarks can be made from almost any thin and flat material that does not spoil the book in any way. They are inserted into the required page with part of the bookmark, protruding the book, so that the place can easily be found later.
There are many types of bookmarks and the more common ones are listed below.
1. Ribbon Bookmarks: Bookmarks made from ribbon are the earliest types that were mass-produced, giving the user of the ribbon bookmark a sense of history. These bookmarks are made from a fabric, of various widths and lengths that are longer than the spine of the book that it will be used with.
2. Informative Bookmarks: These bookmarks serve a duel purpose in that they identify a place in the book and provide a place to write notes for further reference. This type of bookmark is used in non-fiction and reference books by people who are studying and are usually made from card stock. When using multiple bookmarks care needs to be exercised to ensure they do not fall out of place when handling the book.
3. Home-made Bookmarks: Home-made bookmarks are probably the most common and are made by the readers from almost anything that is thin enough to use. Paper and card are the most common materials used, although textiles are used as well. Different shaped bookmarks are also created in this category. Some home-made bookmarks include favorite "cut down" photographs.
4. Promotional Bookmarks: Bookmarks are used to promote all kinds of products that book readers could use. Some book publishes and authors produce bookmarks to promote their books. Movies have also known to be promoted in this way.
5. Decorative Bookmarks: Decorative bookmarks can be purchased form good bookshops, libraries and reputable online sellers. As implied by the heading, these bookmarks are decorated in some way, either with pictures, images, tassels, figurines or any other ornaments that may be of interest. Children's bookmarks are usually much more colorful and depicted with characters of current interest. Some decorations are simply achieved by different shapes.
6. Paperclip Bookmark: The paper clip bookmark is usually made from very thin metal, plastic or wood. They clip onto the page like a normal paperclip and will not easily "drop out" of the book. A good choice for those who read on trains and buses. Care must be taken when using the paperclip bookmark as it can easily rip thin sheets of a book.
7. Corner Bookmark: The corner bookmark is made paper of very thin metal and is placed over the corner of a page, with the leaf of the book within the sleeve of the bookmark. They are in the shape of an equilateral triangle with the equal sides being usually between one and a half inches (or 35 mm) and two and a half inches (or 65mm) long and the opening on the hypotenuse side. If you get that you are real good! Another way to think about the corner bookmark is to think of a corner cut off an envelope!
There will no doubt be other bookmarks and new bookmarks will be designed, perhaps with microchips built-in to store information for use on a computer, or an integrated bookmark with a book-light.
Select the bookmark that you will enjoy using!
H/T Source: EzineArticles.com