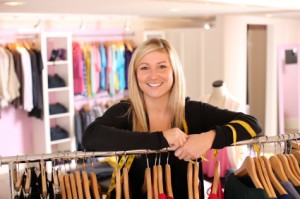 Every clothing line designer, reseller or manufacturer needs a comprehensive advertising and marketing program to attract attention and establish brand loyalty. Well crafted business cards, postcards and brochures can offer exceptional exposure at a fraction of the expense associated with other types of advertising. Printed materials provide an excellent opportunity to display the unique designs, vivid colors and quality fabrics that distinguish distinctive clothing lines.
Advertising Media
Every component of a print campaign can add substantial benefits to the comprehensive marketing effort. Exposure, image building and motivating the customer are the primary goals of print related advertising. This can be accomplished through a coordinated initiative that includes the following elements:
Business Cards: For clothing designers that are looking to impress buyers and retailers, a well crafted business card is a necessity. Business cards can be used to communicate essential information and establish a favorable image with a prospective client.
Business cards can incorporate many effective styles including basic designs or more complex layouts that add color and symbols. Besides complete contact information, a business card should always include a defining logo.
Postcards: Advertising with postcards can serve as an introduction to highly targeted prospective clients while conveying vivid imagery and a compelling call to action. Many clothing line businesses use organized fashion shows to stimulate interest in the line, and postcards can be an effective medium for advertising the event. The front side of the postcard should be used to display various highlights of the clothing line and capture the recipient's attention. The backside of the card affords substantial space where details about the company, the designer and full contact information can be presented. Including special sales or promotions can also be an effective method of raising awareness.
Brochures: A brochure carries the advantage of providing additional space for detailed visual presentation of images and text. A well designed clothing line brochure can serve as an effective advertising piece while informing buyers, retailers and the general public of the different available fashions and styles. High definition pictures that are tastefully displayed on quality stock paper will help to enhance the overall appeal of the clothing line.
Print Shops
For every print marketing and advertising requirement, Detroit Print Shop offers a variety of services that will help ensure the success and effectiveness of the campaign. This includes assistance with graphic design, paper selections and understanding brochure folding options. Detroit Print Shop can guide a customer through every phase of the development process and will produce printed advertising pieces that will be informative, compelling and generate substantial interest.