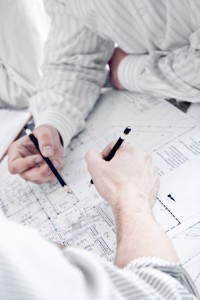 While the primary focus of an architectural firm is the design of critically acclaimed buildings, securing future projects is also of vital importance. Successful promotion involves displaying prior designs in a way that appeals to a prospective client. Architecture brochures provide an inexpensive marketing tool that offers a tasteful mix of photos from past projects along with text that defines the company and its design philosophies.
Advantages of Brochures
For properly presenting Detroit architecture, brochures are unsurpassed as a visual medium. High definition photographs combined with full color printing presents stunning recreations of existing buildings the firm has previously designed.
Brochures serve as an excellent marketing piece to hand out at trade shows, building fairs and industry conventions. They can be mailed directly to clients or presented at an initial meeting to help create conversation. Architects can also use a fully developed brochure in conjunction with real estate developers as they assemble their submittal packages to owners and financiers.
Brochure Design
The mistake many architecture firms make in brochure design is including too many traditional elements. Incorporating rulers, triangles, protractors and other tools of the trade often detract from the purpose of the brochure. It is important to use different components that create a strong business image that is unique and memorable.
When conceptualizing architectural brochures, Detroit companies should consider these important design aspects:
Provide a detailed list of services early in the brochure. While they will be drawn to the photos first, the next area of interest for a client is determining exactly how hiring the architect can benefit them. Listing services early in the piece will allow the client to evaluate the firm as the discussion progresses.
Display appealing photographs. Including several examples of successful building design will serve to illustrate the quality of the architect's work .
Offer a company history. This includes information on the firm itself as well as biographical information on each of the company's key personnel.
Use proper colors. The use of color has a significant impact on perception. Graphic design professionals can help select the colors that will convey the appropriate image for an architecture firm.
Explain what makes the firm unique. Developers and owners are constantly searching for a fresh approach to building design. A brochure can serve as an excellent vehicle to explain exactly how they will benefit by selecting your firm for their next project.
Printing
Architecture brochure printing requires expertise to ensure the finished product looks professional and is representative of the image the architect wants to portray. Detroit Print Shop offers graphic design services, logo design and multiple paper and folding options that will provide a favorable impression with every client.