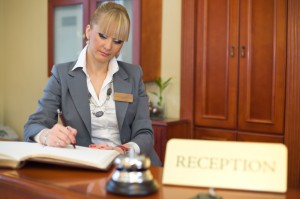 The hospitality industry is highly competitive and it is important for hotels to continually attract new guests regardless of the season. Through a variety of different marketing and advertising channels, hotels try to establish a brand identity that customers will recall when they are ready to make a room reservation.
For a Detroit hotel, marketing brochures can be an effective tool used to illustrate the various services and amenities that are offered to guests. Brochures offer substantial print space that can provide timely information relating to special promotions, room rates, restaurants and pictures of the hotel itself.

Hotel Brochure Design
Developing a successful hotel brochure is not overly complex, but pre planning is a vital component in the process. Initially, it is important to establish a concept for the brochure that identifies the exact message the hotel wants to communicate to its customers. Other critical steps include choosing the size and number of pages the brochure will contain, and an outline that identifies the contents of each page.
While the focus of hotel marketing brochures can vary, it is important to always include the following design elements:
Emphasize Features: While generic brochures created to raise awareness of a hotel are acceptable, highlighting exceptional hotel features works best. Remodeled rooms, a new restaurant and breakfast upgrades are examples of focused information that will attract the attention of prospective customers.
Follow Guidelines: Particularly for a franchise, it is important to obtain the complete print media advertising guidelines that govern how a national corporate logo can be used.
Informative Engaging Content: People in the process of making a reservation are interested in learning as much about the hotel as possible. This means providing information about the rooms, different amenities, check in and check out times, pool hours and pet policies. Eliminating research for a customer usually translates into a booking.
Include Photographs: High definition photos are a vital component in a well-designed hotel brochure. While professional photography is recommended, an SLR camera with a minimum 2 MB capacity is acceptable. Photos should include a full front shot of the outside of the hotel, along with the lobby, breakfast area, pool and the interior of the most spacious room.
Printing
The final phase of hotel brochure printing is selecting the best print shop. It is important to hire a printer that gives their customers exceptional service and quick delivery. Quality printers offer multiple brochure sizes, numerous paper choices, different folding options and full color printing.