Digital printing technology involves reproduction of digital images on physical surfaces. As it doesn't involve block making like in the earlier printing methods like litho printing or screen printing, it is cot effective for short runs of printing. The quality of digitally made prints is always better because the layer of ink used is very thin. Due to the fact that the layer of ink is very thin, there is no smudging of ink and the out lines of the prints are sharper and clearer. This is the technology used in banner printing at present.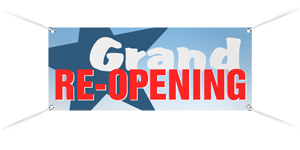 Banners though traditionally used for religious purposes and as heraldic banners of the royal arms etc. these days they are used to give messages to the public on everything from Christmas bargain sales, exhibition sites trade union meetings and many more.
As the demand for banners increased the banner printing became a profitable industry. Various banner printing companies are using different methods of printing to satisfy the customer needs. Mainly used banners materials are nylon reinforced banner material, mesh, canvas, back lit banner material and textiles. The modern printing machines are equipped with UV curing to protect the banners from fading due to ultra violet rays of sun. The ink used in banner printing is also consisting of UV resistant solvents making them able to withstand the attacks of UV rays of the sun.
Over the years as the popularity of the banners increased. The size of the banners too increased. Modern day banners are usually large. For this purpose the banner printers are using banner printing machines which could print banners with a width of more than one meter and lengths more than 30 feet.
The banner has come of age. With glittering images printed on shiny material, a banner could convey a message at low cost with a very good effect.
H/T Source: EzineArticles.com