Brochure printing can be used for a wide array of aspects in life.  And regardless of what you will be using the brochures for, it is important the quality comes out professionally.  In order to do just that, here are a few questions you will want to ask yourself prior to printing.
1. What is the objective?
It is always important you know what your main intentions and the overall objective is with the brochure.  What exactly are you looking to communicate and what does the look need to be in order to accomplish this?  Figure out the message and this will help you determine the overall design and approach to take.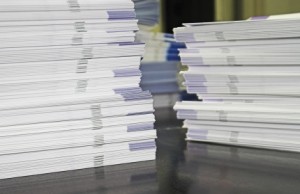 2. Who is the target market?
Make sure the message you are trying to get across is appealing to the group you are targeting.  There is no point in shooting for the stars and creating something that will appeal to anyone and everyone.  All this will do is drastically cut down your chances for generating interest.  Instead, focus on a particular niche or group of people and center everything you do for that group.
3. What graphics will be used?
The final question you have to ask yourself is what direction to take the graphics and design.  The great thing about brochures is that it opens up room for creativity and imagination.  Because of this, you want your brochure printing to display vibrant photographs, illustrations, graphs and colors.  While content is necessary, it is vital you stay away from thousands of words.  Interchange intellectual content with intriguing visuals.  This is sure to lure in those who receive the brochure.
There are a number of questions you want to ask yourself prior to the final brochure printing.  So long as you consider every element of the brochure and take each decision seriously, you will have no problem with the end results.