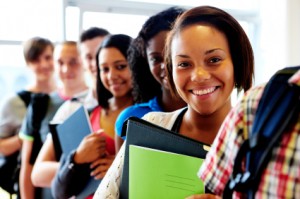 Well designed brochures can serve a variety of purposes for an academic institution. During the decision making process, 
academic brochures
present students with a chance to learn about the many educational opportunities and unique experiences available at the institution.
In Detroit, academic brochures are often used by local colleges and universities to create a recognizable brand identity. This includes announcing awards and important accomplishments by faculty members and students.
Designing an Academic Brochure
The success of an academic brochure is dependent on exceptional design, layout and printing. The pre planning stage is especially critical in establishing the different elements that will help create an appealing, informative and cohesive presentation. For those who lack experience in developing a brochure, Detroit Print Shop can provide considerable expertise in custom graphic design and logo creation.
There are many essential design concepts that will help ensure that a brochure will attract attention, present interesting content, and leave a lasting impression on the reader.
Establish the Brochure's Purpose: Brochures that are created to attract prospective students should have a different focus than those developed to foster local community relations. It is important to determine the overall concept of the brochure prior to the design phase.
Include Professional Level Photographs: While students are extremely interested in the educational opportunities a school offers, the social environment and quality of life on campus are important as well. Photos should convey a sense of warmth, safety and friendliness. To capture the essence of the collegiate experience, using the services of a professional photographer is highly recommended.
Write Effective Content: Optimized content is always concise and interesting. Avoid the temptation to use overly officious language or adjectives in excess. Maintain a consistent format that keeps the content uniform and cohesive.
Focus on the End Result: Academic institutions are constructed on a foundation of educational success and achievement. Potential new students will readily identify with the high profile accomplishments of both faculty members and alumni.
Include a Call to Action: A well designed academic brochure should offer subtle encouragement to compel the student to learn more about the school. This includes providing complete contact information for the admissions department.
Printing
For academic brochure printing, Detroit area schools can benefit from the many services offered by Detroit Print Shop. There are numerous academic brochure printing alternatives such as different paper sizes and folding options.
Detroit Print Shop can help with every phase of the brochure development process and provide a finished product that will be appealing, informative and generate significant student interest.