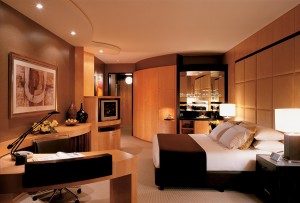 Businesses that build or sell furniture recognize the benefits of providing their customers with well designed furniture business brochures. Furniture industry professionals commonly use brochures to help create brand identity and customer loyalty. Presenting photographs and well written descriptive text will display the most appealing aspects of the furniture and afford customers with useful information relating to its construction and origin.
Brochure Benefits
For companies in Detroit, furniture business brochures have numerous paper size and folding options. This allows them to be used as both a sales tool and a condensed company catalogue. Since brochures offer substantially more space than other printed media, additional written and visual elements can be combined to offer added dimension and depth to the presentation.
Brochures can be an exceptionally effective marketing tool when distributed at building fairs, trade shows and industry conventions. They can also be used as direct mailers or offered to showroom customers as a visual reminder of the piece they have interest in. Furniture companies that work with other businesses, builders and architects use brochures to help create conversation and identify how furniture can enhance the image and value of a home or building.
Designing a Furniture Brochure
Pre planning is an important key to success in furniture brochure design. There are a number of elements that should be carefully considered during the development process. When creating furniture brochures, Detroit Print Shop offers graphic design and logo creation services that will provide professional results at affordable prices.
Identify Targeted Customers: Every successful brochure advertising or marketing campaign starts with identifying the intended audience. Brochures that are designed to appeal to specific potential clients will prove to be more engaging and successful.
Use High Quality Photographs: Since the visual appeal of furniture is critical to prospective buyers, only high definition photographs should be used in brochure creation. If picture quality appears substandard in any way, the services of a professional photographer may be well worth the investment.
Maximize Content Effectiveness: This includes using an eye catching headline and creating optimized content. Descriptions ought to be accurate, informative and interesting without reading like a sales promotion. Unnecessary metaphors and personal opinions should be eliminated. It is also important to maintain design cohesiveness and avoid clutter by using a consistent format that ties every design element together.
Furniture Brochure Marketing
Effective brochure marketing campaigns require consistency and time. Potential customers often need more than one glance at a brochure before seeking out more information. Offering periodic updates that feature new products will serve to remind clients of the brand name and the many furniture options they can choose from.