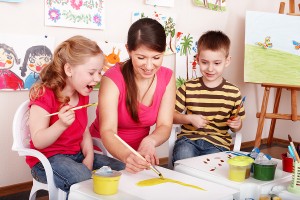 If you are looking at tools that could help you promote your childcare or day care services, a brochure can be a compelling proposition. A well-crafted brochure is not only one of the best tools for advertising but also provides a good medium to anticipate and answer any questions that future clients are likely to have. The key is to convey the care and love that you have invested in nurturing an appropriate and healthy environment for the child. You can rely on Detroit Print Shop to deliver you with the right set of templates, designs, counseling on identity creation, and provide you an end-to-end print and delivery solution.
Creating a compelling, attractive and effective childcare brochure is a meticulous task. With many of your competitors taking a similar approach, you need to be sure that you are not using the same clichéd images and outdated designs that every other business out there is using. If your approach is similar to that of the others, you lose out on the opportunity to create a distinct identity for yourself and the ability to stand out from the competition.
Brochures and flyers are supposed to grab attention and get your audience to act. To stand out, you need to choose compelling colors that convey the care that you invest in your kids. Secondly, build appropriate content that talks about your services, the quality and hygiene standards that you maintain, and most of all stress on how the staff in your organization is well equipped to attend to the needs of the kids.
At DetroitPrintShop.com, we use our years of experience designing brochures and flyers for the childcare industry.  We look into every aspect of your business and help you create the differentiator through your brochure design, content, and graphics. It is all about reflecting the unique personality that you have built up for your business over the years. We recommend that you include photographs of children from your day care in your brochure. Besides contact information, you could also include some FAQs detailing your credentials, your requirements, and so on.
With an experienced professional print shop, you will get help in choosing the right type of fold (tri-fold, half-fold, gate-fold, or Z fold), paper stock, and color options. Detroit Print Shop will help provide you with a professional and striking brochure that will be unmatched by the competition.