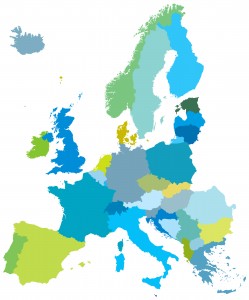 As a result of the internet and advances in international communications, the global economy has created numerous business opportunities throughout the world. Successfully conducting business in Europe involves understanding the continent as a whole and adapting to the local customs of each country individually.
Depending on the specific area of Europe where business is being conducted, language barriers and cultural differences may complicate the sales and negotiation process. Appropriately designed European business cards are critical in conveying a professional image to potential international customers.

European Design Characteristics
Regardless of the country, businesses cards usually serve as a formal introduction for a company's representative. It is important that business cards conform to the standard protocol of the country where they will be handed out. It is advisable to include the following elements when creating European business cards.
Proper Sizing: The size of European business cards differs from the American standard. Cards targeted for distribution in Europe must be 3.35" X 2.17" (85mm X 55mm).
Multi Language: Business cards that contain text in the host country's native language are more readily accepted and appreciated. Usually placed on the back of the card, information that is printed in the indigenous language will convey sincerity and appreciation for the country's culture.
Consider a Native Speaker for Creating Content: Using a citizen of the country to proofread the piece helps ensure that translations accurately communicate the appropriate message.
Use Color Cautiously: Certain color combination of background and font tend to obscure contrast. This can result in misinterpretation of the lettering and create unintended spelling errors. Remember that color is not always accurately reproduced if the client photocopies the card.
Include the Country of Origin: While it is unnecessary to print the name of the country on a business card created for the U.S market, cards designed for Europe should always include the country of origin in the address. Multinational companies deal with vendors from across the globe, and a lack of reference to the vendor's own country can make the contact process more difficult.
Include the International Calling Code: This is a courtesy to prospective customers.
Printing
When exchanging business cards, European decision makers expect to receive a professionally printed card that includes all the appropriate information required to facilitate future contact.
When choosing a print shop, it is important to select a printer that has experience in producing European business cards specifically designed for the market. This includes knowledge of the size difference as well as the unique Roman font requirements.