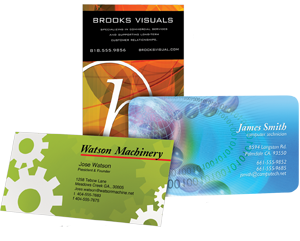 Competition has never been as stiff as it is today in the business world regardless of what field or niche you may be in.  Every little thing you can do to stand out from the rest of the crowd must be done.  One simple way to give yourself an upper hand is by sticking to glossy business cards.
More and more businesses are turning to glossy business cards today, and for obvious reasons.  The number one benefit to delivering cards with a glossy finish is that they stand out.  Handing someone a dull black and white card is begging them to throw the card away.  But if you can deliver a card that has a glossy finish with bright and rich colors, it is going to stand out.
Typical business cards tend to fade after a short period of time and everyone knows the way to purchase business cards is in bulk.  When purchasing cards with a glossy finish, the color is going to maintain its bright appearance much longer.  In addition, the card in itself will last as much as five times longer leaving a professional impression on the recipient.
There are several ways to go about printing glossy business cards.  One way to do so is simply by sticking to glossy paper.  An alternative option is to print the card on a thick 15 to 16 point paper and coat it with a glossy finish.  This will help to protect the ink the card is printed with so that it is more water resistant, sun resistant and can withstand aging.
Whether you are handing out cards in person or sending them through the mail, you want to make an impression immediately.  Even when you put color into regular business cards, it is going to be faded and appear to be rather cheap.  Glossy business cards are going to pop and deliver perfect colors and shades.  And if you plan on placing your photo or some kind of colored image onto the card, a business card that is glossy is the only way to go.
Seek out an expert for your business printing needs, seek out Detroit Print Shop.