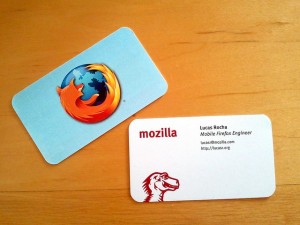 Designing a business card is no easy task. You want to make sure that your business card looks unique and well planned. Your business card should stand out and not stick out like a sore thumb. It should make an impression and stand out from the rest. Do not compromise simplicity and style for uniqueness though. It will be in the company of other similar business cards when you hand them out to clients so its best if you think of a way to make yours stand out in the best possible way.
The colors you use are important. If you own a legal firm or a bank, then you should use somber colors. Dark colors for the typefaces work well with light colored backgrounds. However, if your company is related to visual graphics and the like then its best that you be as creative as you can be.
Your logo should be distinguishable and should say something about your company. If you have affiliate companies, print their logos in 2 colors only because having too many colors will make your business card look cluttered. The attention should be concentrated on your logo and your details and not your affiliate companies.
The impression your business card makes will also depend on the typefaces you use. Limit your typefaces and keep the characters simple. It looks professional if you use only 2 different typefaces at a time. The size of the characters should be just enough. They should be readable and clear. Don't make them too large. Your name or your company's should be larger than the rest of your contact information. Make sure that the text on your card does not look squeezed in. Leave spaces where they should be left. You don't have to fill out the whole card.
Make sure you use the right contact information. Always double check. It is advisable that you give everything your client might need like your address, e-mail address and other contact numbers. It will be a large waste if you find errors after printing. This is why it is important to have professionals do the job of printing.
The slogan or tag line you use to endorse your company should be witty and memorable. Your business cards will stay in wallets and rolodexes so its better if you leave them a mental reminder of what your company offers. This might be your first opportunity to make a good impression. Make it count.
Do not take the free space at the back of the card for granted. Print your picture, your company's best photo, or your best product/service. Include emergency hotline numbers or important dates you want your client to remember. Include a memorable quote or an anecdote. Place whatever you may think will make your card indispensable.
Include a good closing remark at the bottom of your business card. Make it something they won't forget. Make it sound unique and exciting. Your clients are going to remember your company.
Make sure your business card is printed in the finest quality. It will be much better also if your business card is as durable as it can be. Business cards can be used as referrals for the people you hand them out to. So this exchange of hands will definitely damage your card. Choose a good printing company that will suit your needs. Nobody wants to receive or keep a cheaply printed business card. A poorly printed business card will most likely end up in the trash. However, a finely printed business card will, of course, be kept and most likely be passed around inviting more business for you.
H/T Source: EzineArticles.com