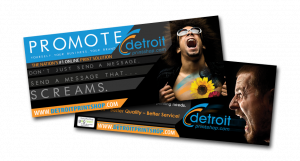 The rich history of musical superstars in Detroit has made this city a haven for local artists on the rise.  The need to self-promote solo artists and bands has many artists looking for the right marketing solution, one that won't cost a fortune.  Club Flyers are a great way to promote, a small investment that goes a long way. A killer design for your club flyer makes all the difference in the world, but it's the printing that brings the piece to life. Our printing process gives us the ability to create something that will come alive when you place it in someone's hands. They will feel the power of the music just by looking at the image we create to portray you.
Club flyer printing should be done on high gloss paper stock in full color. The durability of this material makes the flyers easy to store and gives the recipient the option of passing them on to someone else once they've viewed them. A normal paper flyer on lighter stock will smudge or get destroyed on the first pass, but high gloss heavy stock can bring you multiple responses. They are highly effective for distribution in congested public places like bars, restaurants, and nightclubs, the types of venues where you'll find those who want to hear your music and catch your act live.
Detroit has produced some of the greatest artists in music for generations. From Motown to hip hop, our musical culture is as diverse as it gets and the stars are still coming out on an almost daily basis. Kid Rock passed out club flyers for over a decade before producing the first of his first top ten albums. Eminem washed dishes for five years while passing out club flyers to promote albums you have most likely never heard. Even Madonna, though not a pop musician until she moved to New York, passed out club flyers promoting her local dance group from Bay City.
In the 50's, 60, and 70's, when Detroit musicians were bringing the Motown sound to the rest of the world, club flyers were not what they are today. The modern print process we use now can give you vivid flyers that will come to life and show the city of Detroit exactly what you have to offer. When you pass out any item that promotes your act, your band, your event, or your business, you want it to be something that immediately attracts attention and tells your story in a single glance. That's what our club flyers do and you can have them for a lot less than you might think.