Using professionally designed and printed letterhead can help create a positive and professional image for any Detroit area business. Even small home-based businesses can project a strong corporate identity by using quality letterhead for their correspondence.
Customized letterhead can be ordered from both local and web-based printers who can use an existing business logo or design that the customer provides in a digital file. Many letterhead printing companies also offer in-house creative services that help customers design logos, choose fonts and develop letterhead that matches their existing business image.
How To Order
When ordering letterhead printing, customers need to decide on the size and color of the image or logo, the type of paper and the quantity and size sheets to be printed. Generally speaking, the cost per sheet decreases as the size of the order increases because a significant part of the price of commercial printing includes design and setup costs. Most printers require a minimum quantity of 100 sheets or more for letterhead printing orders, with some services setting a minimum order at 500 sheets.
Business customers should receive a written quote for the full cost of their order before authorizing the letterhead printing. This quote should include details such as the type of paper and ink to be used, the number of sheets ordered and the projected delivery date. Most printing companies will require customers to check a proof copy of the letterhead before printing the full order. This allows the customer the chance to make any last-minute changes to their letterhead while preventing costly errors such as typos or omissions on the entire order.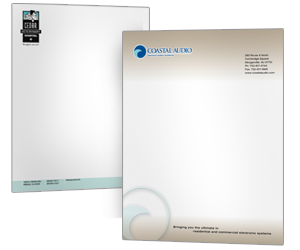 One, Two and Full-Color
The most economical letterhead printing option is the use of a single color on a basic paper stock that is suitable for use in both inkjet and laser office printers. This can be a good option for companies that are looking for low-cost letterhead for daily use.
The price of letterhead generally increases with the number of colors used, the quality of the paper and any additional features such as raised ink or the use of gold foil.
Eco-Friendly Options
There are a number of options available for businesses that are looking for eco-friendly letterhead printing. Most commercial printers offer paper stock that contains recycled material such as post-consumer waste, is free of any virgin wood pulp fibers and has been manufactured without the use of chlorine.
Another green option for letterhead printing can be the use of soy inks rather than traditional inks made from a petroleum base. Printing with soy inks is considered to be a eco-friendly choice because these inks off-gas significantly less volatile organic compounds (VOCs) than oil-based inks do while producing a bright, vibrant image on the paper.
Other Considerations
Many commercial printers offer discounts for customers who place an order for letterhead along with other printing services such as business card, envelope and brochure printing. Along with providing a cost savings on printing services, this option helps ensure consistency between all printed materials used within a business.