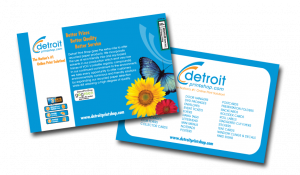 The city of Detroit has a lot to offer. The culture, history, and diversity of our city are what have made it a popular venue for musicians, politicians, artists, and businesses looking for a central location. If you're one of those businesses, what better way to bring Detroit to life than ordering color post card printing from Detroit Print Shop? Show the rest of the world what Motown looks likes through your eyes and let everyone know we're alive and well, thriving and prospering like the Motor City of old.
Color post cards can show the Detroit skyline, famous landmarks, or any picture of you or your company that you want to mail out to customers and prospects. They can portray a product or show a service being done, whatever you feel might get the point across. If you want us to make a full color post card with your favorite pet on the front, we can do that too. We'll use our cutting-edge offset printing process to produce the finest color post cards you've ever see.
Color post cards can go in either direction. You can use them to send out as a mailer to all who have an interest in your products and services or you can have your outside salespeople leave them on doors and in mailboxes while they're canvassing the neighborhoods of greater Detroit. The hit rate on these return to sender post cards is a lot higher than what you see when you just leave a business card.
How would you describe your business in just a few words? Tell us and we'll capture that description with a full color picture on a post card. Want to capture a memory from your latest vacation and send it to all your friends? Color post card printing from Detroit Print Shop can do it for you. Our cards are affordable and top quality all at the same time. Where else are you going to find something like that?
When you're using color post cards, you'll want to make sure there's a code which will track a response and identify the customer as a prospect from that particular campaign. You can ask that customers call in, email, log in to a website (make sure you have a code entry feature), or mail the card back to you. Color post cards are one of the most diverse, effective, and affordable forms of advertising you can buy.