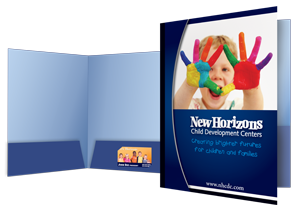 Business cards can open a door. Presentation folders can open a new world of opportunities and possibilities. Your presentation folder is your first foot in the door. The way you present yourself and your company can be the difference between failure and success.
Now you're in and you have to make a presentation. It doesn't matter if you're presenting to one person or a full room. What matters is getting attention fast. The best way to do that is to get it before you start. Think of it as your introduction. Custom printed presentation folders do exactly that they get immediate attention. They introduce the name of your company, its logo and branding to the meeting.
When you hand out well-designed custom printed folders at meetings, trade shows or sales opportunities the receivers response can change from curious to interested. Many businesses use custom printed presentation folders as their first contact to acquaint their potential customer with your company and how they will benefit from your products and services. Many times that all they need to place an order.
Custom printed presentation folders are an excellent, cost effective marketing tool that creates a strong positive impression from the receiver. It brings you to the front of attention. The goal is to get attention and your presentation folder has gives you that.
It's expensive in both time and money to go to trade shows and meetings. You may be surprised to learn custom printed folders cost about the same as cheap generic folders from your local office supply company. Think about the difference of the impact between generic folders and custom folders. How many more sales do you think you could make? For a powerful marketing tool they are an excellent investment. A thousand custom folders cost just a little over one dollar each. You could spend more than that just going to the store to buy a few.
I'm not going to waste time and words telling you how many ways you can use a presentation folder. If you got this far I'm sure you know how valuable they are.
Custom printed presentation folders are available in a variety of papers and finishes. The most common folders are printed on heavy 14 Pt. papers with either high gloss UV coating or a matte finish that doesn't reflect light. Both finishes make a very professional presentation. If you are looking for a, strikingly impressive presentation that has a unique, bold WOW FACTOR effect you can choose the options of adding spot UV coating, silver metallic ink, colored metallic effects or extra heavy silk laminated folders.
Know matter which paper, weight or finish you choose your presentation will accomplish the goal of getting you and your company recognized as a professional experienced competitor that can get the job done right. Great opportunities are only offered once so you have to make it impressive.
Presentation folders are used by marketing professionals with big custom printing budgets. Now you can level the playing field with very high quality low cost presentation folders.
H/T Source: EzineArticles.com