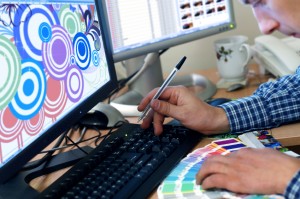 Online printers offer exceptional benefits when compared to traditional neighborhood print stores. They offer a wide array of printing options, exceptional convenience, cost savings and quality products delivered to meet tight deadlines.
However some businesses remain reluctant to use online printing services because they are intimidated by the design process. For those requiring printing design help, modern online print shops offer a variety of tools that will assist the customer in creating the perfect promotional marketing piece.
Regardless of which design method is chosen, it is important to have selected the conceptual elements prior to the actual development of the material. This includes establishing the message and a preliminary layout to evaluate the flow of the text and graphics.
Templates
Quality online printers offer a variety of templates that can be used to inspire creative designs.  Templates are available by size and folding options for virtually every product the printer offers.
Online designs are available in numerous varieties that afford various levels of modification.  This includes templates that allow for a single image, multiple image options, and blank templates that can be completely customized. The right choice for a particular project will depend on the amount of text and the type of graphics that need to be included. Assembling images, copy, backgrounds and fonts will help the process proceed in an orderly manner.
Templates are available for single sided and double sided printing as well as color and black and white. Projects can be saved and recalled to incorporate additional changes or alterations for future printing.

In House Assistance
For those who prefer to have their designs created by a professional, the better online print shops offer advanced development services to their clients. For graphic design, they utilize an extensive library of images and photographs to create a piece that is a reflection of the customer's vision and ideas.
With state of the art equipment, designers continually work to create memorable brochures, flyers, postcards and other promotional materials that will enhance visibility and establish brand identity. Regardless of the size or complexity of the job, an online printer's graphic design team can fashion a message that will attract attention and convey professionalism.
Committed to the Client
Whatever level of experience or guidance the customer needs, design printing help is available to ensure that promotional materials are effective and memorable. The online printer's expertise and experience in projects of all sizes will result in a successful campaign with minimal associated costs.