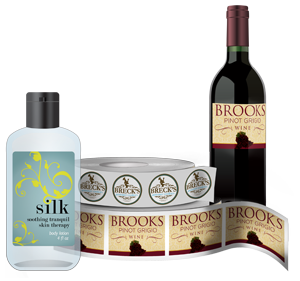 Roll labels are ideal for multiple use and when you need a stash of labels on hand which can easily be handled and applied.
Roll labels are cheap and always ready to use in bulk or for one-off jobs and they have very few limitations while being easy to design and produce at a very low cost.
Roll labels can be designed with as much artistic flair as you wish to apply or they can be mundane and packed with the information you wish to convey with a minimum of fuss and effort. The only major limitation of roll labels is that they are not generally suitable for outdoor use; if you are going to expose roll labels to external conditions they are not going to last very long and they usually degenerate very quickly. That being said, there are pretty few other limits to be concerned about.
Roll labels are not simply confined to paper rolls and stickers either; you can play around with foil labels using gold and iridescent colors while many of you reading this on a PC will see a Microsoft "Windows" sticker with a holographic image embedded on it – this is a roll label simply applied to the PC unit as it comes off the manufacturing assembly line.
Choosing the color scheme for your labels is simple and straight forward because they lend themselves not only to multiple color schemes (4 or more colors) but also to more sophisticated color schemes such as CMYK or process color as well as foil printing and blank or stock labels.
Deciding what you are going to use the label for, indoor or outdoor use is important because as we have already noted, roll labels are not particularly good for outdoor use though there are some products which are durable – it is essential for your supplier to know whether you are going to be using the labels in outdoor situations where they will be exposed to the elements.
Any label is only as durable as the adhesive which is used to stick it to the object you are working with; some label adhesives are excellent for glass but not very good for use with clothes, so once again you need to think about what the roll label will be affixed to and ensure your label supplier is made aware of it so they can quote you for the right product.
You can source roll labels in virtually any size, large or small, depending on your requirement – bumper sticker size or larger can be produced though generally roll labels or stickers are of much smaller dimensions. You do not need to be restricted to having them on a roll either – many labels are printed onto sheets for easier storage in the office or can be produced as stand-alone items. You may also wish to consider perforations around individual labels so they can be easily separated from the rest without having to remove the label itself which will subsequently affect the sticking quality of the adhesive.
H/T Source: EzineArticles.com