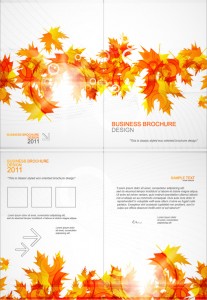 With summer almost at an end, it's time to start thinking about printing fall brochures. Designing a great fall brochure doesn't have to be a trial, it just requires following a few simple tips.
1. Showcase What's New
Many customers who receive brochures from a company are already familiar with the company's general offerings. They may only glance for a few moments at a new brochure, so it's important to catch their eye immediately. Graphics, larger fonts, and attention-grabbing placement are all ways to ensure that the fall specials don't go unnoticed.
2. Emphasize the Season
Seasonal brochures are great because they allow companies to showcase their newest offerings, but also because they reassure customers that the information on them is timely. An all-seasons brochure may have been created at the beginning of the year and have gone out of date, but in late summer and autumn, a seasonal fall brochure looks fresh and relevant. Use autumn colors and themes, especially on the cover, and make sure the season and year are prominently displayed to take full advantage of this effect.
3. Use A Professional Printing Service
With the powerful graphic design tools and versatile printers and copiers available to businesses today, it can be tempting to try the do-it-yourself publishing method for a seasonal brochure. It's important to remember, though, that having a hammer and level does not make someone a carpenter, and the seasonal brochure is an important public relations and advertising tool. Using a dependable print shop with a great reputation will make for better brochures with greater drawing power.
Detroit Print Shop offers only the highest quality brochure printing and competitive pricing nationwide. Brochures are printed on 100 lb Gloss Book with Aqueous Coating. With cutting edge technology and years of experience, the specialists at Detroit Print Shop have helped customers nationwide create brochures that are customized for each client's needs at a cost-effective price.