You are handed two business cards by two different people for the same type of business. One is a black and white unadorned business card with simply the basic information on the front side. The second is a glossy, colorful business card with more than simply the basic information such as additional phone numbers to contact the person, web address, email address and even a home phone number. Which of these two cards are you most likely to discard? The chances are you would discard the unadorned card simply because of the simplicity of the card and the lack of imagination.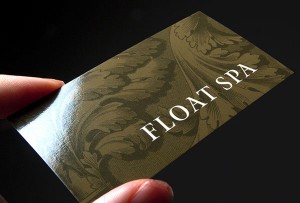 Glossy business cards are becoming more popular than ever in today's economy and for good reason. They are an investment in advertising for you and your company and they are less costly in the long run than regular business cards. For example; one in five business cards are discarded within the first 24 hours of receiving them. This can cause your business money, making that business card one of the most expensive cards you have ever handed out. In addition colorful business cards with a glossy finish have brighter, richer colors than cards without the glossy finish. With the UV gloss coating, your cards will keep their color longer, last five times longer than the normal card and leave a better impression on its recipients.
Some glossy business cards are printed on a glossy paper. Others are printed on a thick 15 point to 16 point paper and then coated with a glossy finish. This protects the ink that the card was printed with. It becomes more water resistant, more sun resistant and resistant to aging and turning yellow. This means a potential customer could keep your card for years before it begins to fade and yellow. In other words, a potential customer you hand a glossy business card to today could contact you in several years. In addition it is sometimes harder to get ink to dry on a glossy finish which is why a glossy or UV coating is used. This is one of the most economical business cards and advertising campaigns that you can wager on clients. Your business card will not only leave a lasting impression on a client, but last for years too.
Printing on regular paper stock can cause colors to be dull and non-vibrant. If you use a background color or a colored card rather than a white one, it too can have an effect on the brightness of the colors and create different shades of colors that you did not particularly like. A glossy business card offers the best colors, background colors included, at the best price. If you are planning on placing your photo on a business card or a photo of your company building, glossy business cards are the only way to go to ensure the perfect colors and a lasting impression. Glossy business cards say professionalism when you begin handing them out to acquaintances, clients and potential clients.
H/T Source: EzineArticles.com