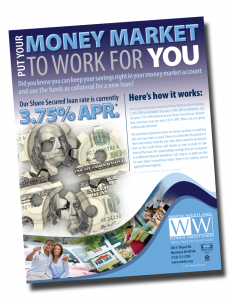 For an attractive and effective flyer, good design is a prerequisite – a good choice of colors, fonts, and graphic elements are essential.  However, it is the layout that ties everything together and allows you to effectively communicate the message.   Here are some simple flyer layout tips.
Determine the best size of your flyer. The overall flyer design depends on how much information you would like to communicate.  Although a flyer typically has a page size of 4"x9", it can range from a single page, single sided to tri folded, double sided layout.  It is important to decide how many graphic elements you intend to use along with text information, coupons, replies, notes, etc.
For each page, you should try to make it as easy as possible for the reader to view and understand the information.  Use a strong headline at the top of the page followed by a graphic element in the middle.  If this page has contact information, make the text size larger than other text information on that page.
Readers typically scan flyers, therefore make sure "white space" is plentiful.  Keep your paragraphs short and the sentences crisp.  Break up longer text with pictures or graphics.
Do not overuse font styles.  You should limit the font styles to no more than two.  You can bold or italicize fonts to emphasize certain points.   However it has been shown that if you use more than two different font styles, the piece becomes more difficult to read and could be judged as unattractive.
Keep your flyer simple.  Make efficient use of text and eliminate unnecessary wording.  If you need to use more space, consider adding attractive graphic elements.   Again good use of images or graphic elements can often tell your story much more effectively than a extraneous words.
An effective flyer layout should contain three 3 key elements:
Get Attention. A strong headline or graphic is usually the best way to do this.
Create Desire. Make the person reading this want to read or review it.  You want the people to be interested in the information and promote a desire to take action.
Call to Action. You want the person to take action after he/she reads the flyer.
In summary, an effective flyer layout is essential to making best use of space, graphics and text.  Make sure you follow the guideline of grabbing the attention of the reader, create desire to take action, and promote a call to action.  If you follow these simple tips, you will be well on your way to designing a successful flyer.
For all of your flyer and business printing needs, please visit Detroit Print Shop.