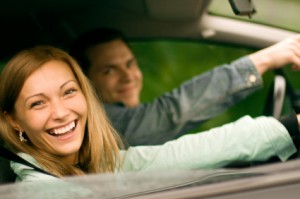 For dealers looking to increase car sales, postcards remain one of the most cost effective methods for advertising the various products and services an auto dealership offers. A well designed postcard can be used to provide important information to existing customers and those in the market to purchase a new vehicle. Detroit area car dealers have found that postcard marketing can provide exceptional results with a minimal investment.
Successful advertising with postcards is highly dependent on developing an effective distribution strategy and incorporating an attractive design. It is critical to create prints that capture the recipient's attention and compel them to take further action.
Postcard Design
Cars and non-commercial trucks are always initially judged by their visual appeal. A postcard offers the opportunity to place an eye-catching photograph that draws attention to the accompanying text. This may include details such as gas mileage, engine construction, price or a variety of other specifications.
The backside of the postcard is where details about the dealership should be presented. Elements such as the dealer's full contact information, philosophy, service hours, history and an introduction to key salespeople can be incorporated. It is important to avoid creating a postcard that focuses only on selling cars. Dealer integrity and customer service will be vital components of a prospective customer's buying decision.
There are other critical design elements that should be carefully considered during the development of a car sales postcard:
Include an Offer: Promotions such as reduced cost oil changes and tire rotations will attract potential new customers to the dealership. This provides service department sales people with a chance to sell additional products and services. While the customer is waiting, they often walk the showroom and browse the lot, presenting potential vehicle sales opportunities.
Balance Images with Text: Quality photos are persuasive, but conveying a written message to the recipient is also important. Text and images should be integrated together to form a seamless presentation.
Professional Printing: Nothing displays an automobile better than a photo placed on rich, glossy stock. Detroit Print Shop can help with every phase of the car sales postcard printing process. This includes paper selection, graphic design and numerous free templates.
Use Originality: Tasteful humor, innovative design or highlighting accomplishments and awards can serve to separate the postcard from the mundane and unoriginal.
Proofread the Piece: Several people proofreading the text will help ensure that spelling and grammatical errors are caught and corrected before the postcard is printed. This can save time and financial resources.
Marketing Considerations
Car sales postcards are most successful when the marketing campaign is consistent and repeated over an extended period. Regular mailings will help create brand familiarity and result in a much higher response rate over time.