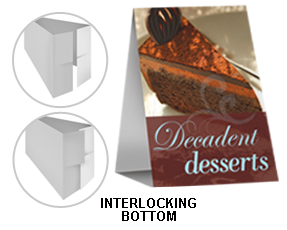 One of the most effective weapons in any marketing arsenal is the simple Table Tent. These small, folded signs with their messages placed just about anywhere the public visits have proven to be exceptionally effective.
You've seen hundreds of them in restaurants, offices, bars and hotel rooms. They've told you about menu specials, upcoming movies, special sales and housekeeping hours. And you paid attention.
When you need to guarantee an audience, table tents are a sure way to get your message where it needs to be. Table tents work as a complement to menus and are often the key to upselling services and merchandise. They are proven to boost sales and promote interest.
At Detroit Print Shop, table tent options include:
Nine various table tent sizes
Four papers to choose, including a recycled paper option
Recent Posts
Today's table tent market has expanded and now includes several variations of the classic table tent. A key element to having a successful advertising strategy in your restaurant or food service establishment is knowing what types of table tents are best to buy for your particular needs and budget. One way to effectively make the […]